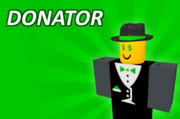 Donating is an additional way of supporting Brick-Hill that isn't purchasing memberships. When donating, you use your money to fund the development and hosting of Brick-Hill.
When donating, for every 1 USD you donate, you will receive 1000 bits, or 100 bucks. When donating you can also receive items for a certain amount of money to do decide to donate.
For example, donating $8.98 will result in 8980 Bits being added to your account, 2 virtual items (such as a hat or a tool), and your account receiving the Donator badge.
$0.99 - $4.99: Donator Balloon
$4.99 - $8.98: Donator Face
$8.99 - $12.98: Donator Tuxedo (T-Shirt)
Over $12.99: Donator Fedora.